Scouring The Desert


Basic Info
Level
5
Chapter
1
Release
July 9, 2013
Location
Rockvein Canyon
Orders

Search for Termina
Find the enemy encampment
Destroy all enemy hostiles
Scouring The Desert is the fifth level of Chapter One of Season One in Mech Mice Tactics. In the mission, Blaze and Flank battle a large score of Bugs.
Queen Termina has stolen the Burntleaf Shard, and retreated into the barren Rockvein Canyon. It is believed an enemy encampment is hidden there. Your squad must track down Queen Termina, and recover the Burntleaf Shard.
In the middle of the map, shoot the cactus and continue down the path.
At another section of the map, shoot the cactus then the crate behind it.
Go past the Swirly Portal and activate the switch. Defeat the bugs and continue down until you reach the token.
Walkthrough
Edit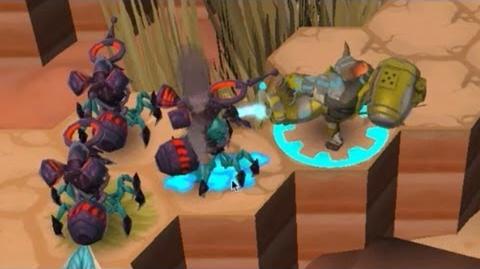 Ad blocker interference detected!
Wikia is a free-to-use site that makes money from advertising. We have a modified experience for viewers using ad blockers

Wikia is not accessible if you've made further modifications. Remove the custom ad blocker rule(s) and the page will load as expected.