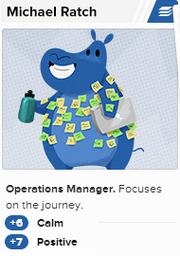 Michael Ratch is the Operations Manager of Hyper Hippo Productions. He takes care of all the obstacles thrown in the team's way.
His favorite childhood toys were the GI Joe action figures. He still has a collection of them.
Micheal thinks that Braveheart, Wolverine and Neo would be a cool team to create an action-movie with director Quentin Tarantino.
He takes care of game design documents, technical design documents, projections, scheduling, planning, and spreadsheets.
Ad blocker interference detected!
Wikia is a free-to-use site that makes money from advertising. We have a modified experience for viewers using ad blockers

Wikia is not accessible if you've made further modifications. Remove the custom ad blocker rule(s) and the page will load as expected.